Post Event Update | COVID-19 Global Update, Peter Doherty Institute
18 March @ 11:00 am

-

12:00 pm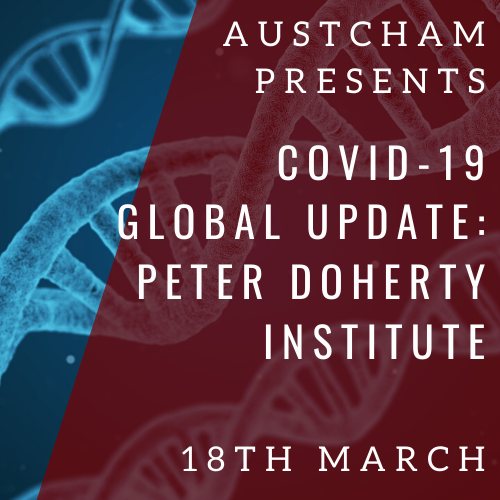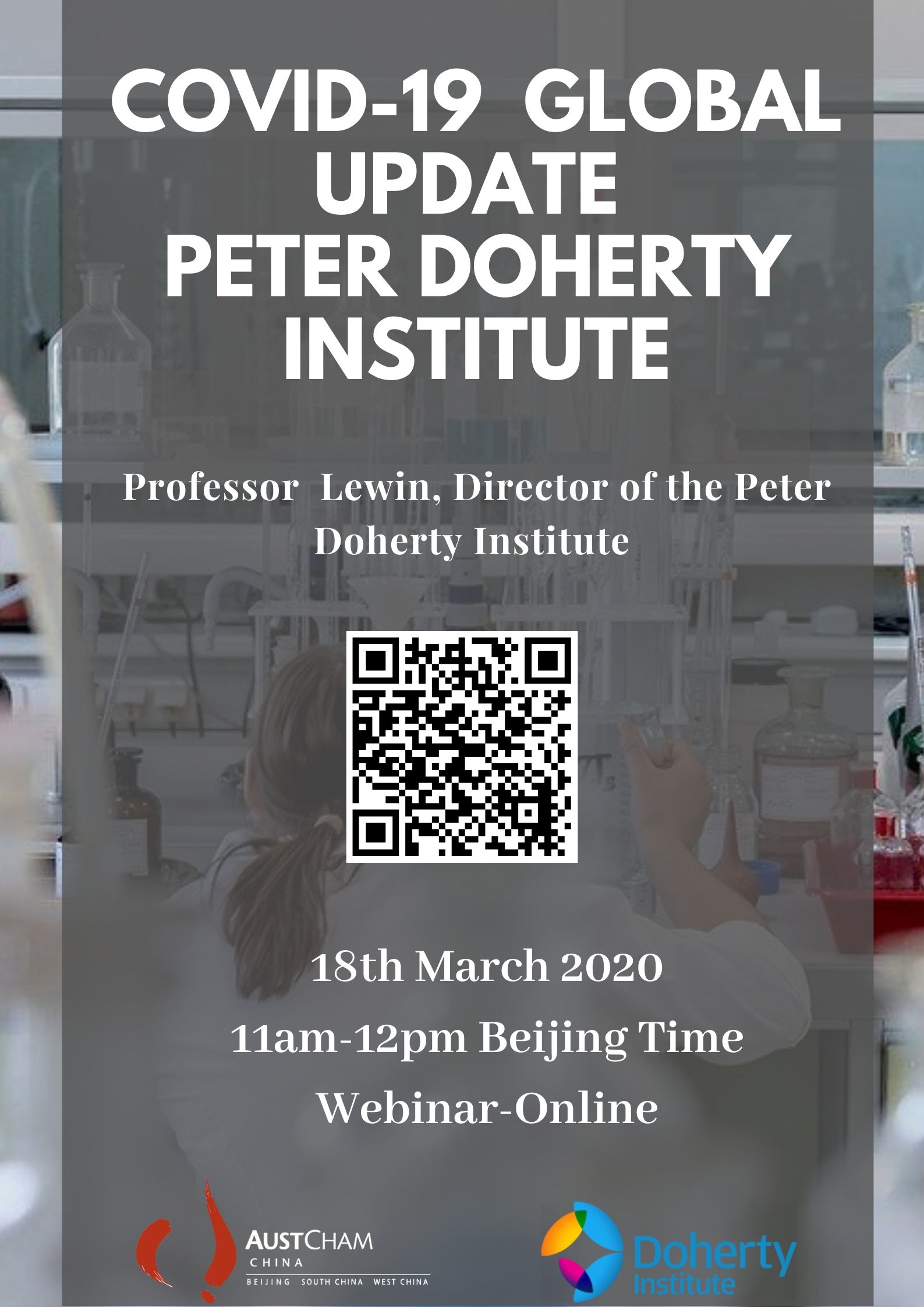 Prof. Lewin provided a global summary on the current COVID-19 situation and emphasised Australia's need to be ahead of the curve when combating this virus and the need for stringent action. She analysed the current Australian healthcare response and touched upon country success stories, including China, responsible for an extraordinary amount of research being shared on COVID-19. Prof. Lewin further discussed vaccines and timelines.
Mr. White spoke of China's gradual return to normality, with approxinately 95% of large enterprises outside of Hubei having resumed operations, and approxinately 2/3rds of China's migrant workers having returned to work. Mr White further outlined the range of support measures being implemented by the Chinese government and emphasised some key healthcare highlights.
Click the icon below to listen to the audio of the recording.

____________________________________________________________________________________
Join AustCham China for a webinar with Professor Sharon Lewin, Director, Peter Doherty Institute for Infection and Immunity, and Tim White, Trade Commissioner and Commercial Consul, West China, Austrade to be held Wednesday 18 February.
As the infection and fatality rate of COVID-19 increases globally but decreases in China domestically, hear from Prof. Lewin as she provides insight into what this means on a global scale. She will expand upon what the AU$3.2 million dollar donation from the Jack Ma Foundation means in the race to develop a vaccine and what has been achieved in investigating, diagnosing and treating the virus globally.
Date: Wednesday 18 March (18/03/2020)
Time: 11:00am-12:00pm CST
RSVP: Click here to register or scan code below: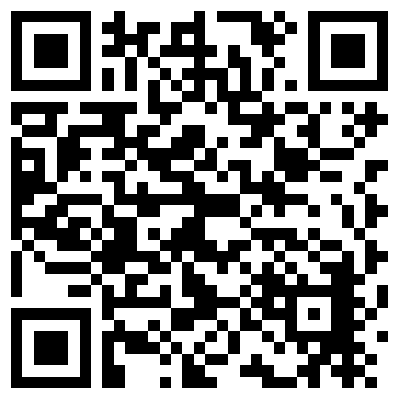 Professor Sharon Lewin
Leading infectious diseases expert, Professor Sharon Lewin, is the inaugural Director of the Doherty Institute. She is also a Professor of Medicine at The University of Melbourne and a National Health and Medical Research Council (NHMRC) Practitioner Fellow. As an infectious diseases physician and basic scientist, her laboratory focuses on basic, translational and clinical research aimed at finding a cure for HIV and understanding the interaction between HIV and hepatitis B virus. Her laboratory is funded by the NHMRC, the National Institutes of Health, The Wellcome Trust, the American Foundation for AIDS Research and multiple commercial partnerships. She is also the Chief Investigator of a NHMRC Centre of Research Excellence (CRE), The Australian Partnership for Preparedness Research on Infectious Diseases Emergencies (APPRISE) that aims to bring together Australia's leading experts in clinical, laboratory and public health research to address the key components required for a rapid and effective emergency response to infectious diseases.
Mr Tim White

Tim manages the Austrade West China team, with responsibility for advancing Australia's trade and investment relationships with China's fastest growing region – a market of 200 million people across Sichuan, Chongqing, Yunnan and Guizhou. Tim also leads Austrade China's International Health team, working to open new opportunities for Australian business in China's vast and dynamic healthcare, life sciences and aged care markets.
Tim has extensive experience in international business engagement, trade and economic policy development and economic analysis. He has a deep understanding of the Chinese market and the opportunities on offer for Australian business. He has worked closely with a range of Chinese companies investing in Australia. Tim previously served for over ten years with the Department of Foreign Affairs and Trade, including in Beijing, Shanghai and Canberra. He is fluent in Mandarin.