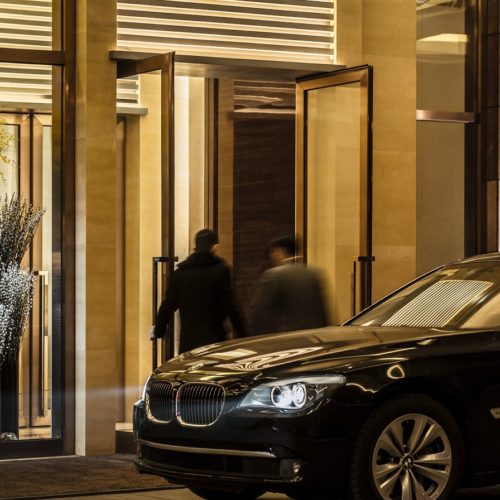 As the world's leading operator of luxury hotels, Four Seasons Hotels and Resorts currently manages 104 properties in 43 countries.  Open since November 2012, Four Seasons Hotel Beijing provides a preferred address for both business and leisure travelers, and the highly personalized, anticipatory service that Four Seasons guests expect and value around the world.  Recent awards and honors include "Best 50 Restaurants in China (Mio)" given by Food & Wine magazine and "2016 China's Top 100 Hotels" given by Travel+Leisure magazine.
InterContinental® Beijing Sanlitun
InterContinental® Beijing Sanlitun a truly international brand with latest fashion design, conveniently located in the most stylish entertainment district in Beijing, with easy access to famous leisure and scenic spots, ideally for travellers and social connectors with an aspirational lifestyle.
The design of InterContinental® Beijing Sanlitun Hotel draws inspiration from a hexagon diamond, which takes shape by continuously refining a raw gemstone. "Diamond" is the essential element of overall design throughout the hotel. The interior design focuses on shaping scenes by use of both decorative and architectural solutions. Thereafter, every part of the space gets interspersed with each other and integrates a seamless extraordinary visual experience. Metallic brass grille looks like strings playing wonderful rhythm throughout the property. 300 chic and contemporary guestrooms with size starting from 45 square metres are elegantly appointed with separate business area, high quality audio system, interactive TV, high speed Wi-Fi and Internet access. Last but not least, lighting at each spot is a stroke of genius in the interior design. A special arc lamp in room helps to release any fatigue on the way. The skilfully arrangement makes the space full of sensations and warmth, leading guests to a home away from home.
The hotel is equipped with meeting and conference services, an 800 square metres ballroom and 8 function rooms with total area of over 1,500 square meters, which offer ideal venues for meetings, conferences, special events and wedding banquets.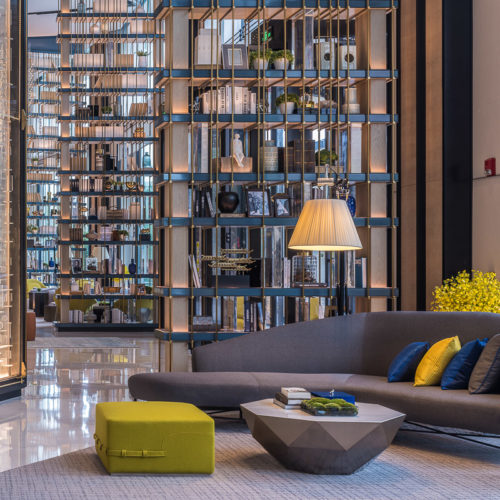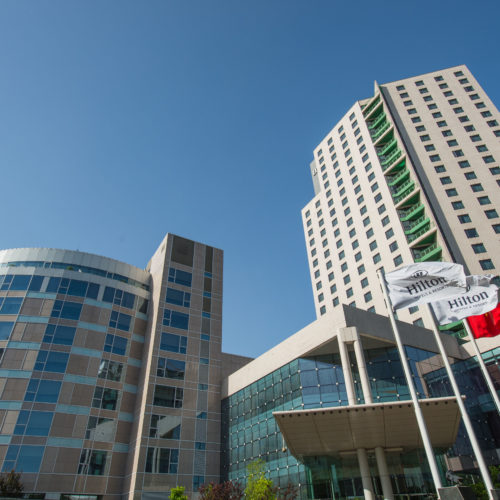 Unwind at the Hilton Beijing, situated just 20 minutes from Beijing Capital International Airport and located in the bustling and well positioned Chaoyang business and diplomatic district. Host your corporate meetings or special events for up to 500 Guests in one of 12 spacious and elegant function rooms and enjoy professional planning advice and services.
Relax in one of 502 spacious guest rooms or upgrade to a room in the Executive Tower and benefit from upgraded amenities and enjoy complimentary drinks and snacks in the exclusive Executive Lounge.
Keep fit in the fitness centre then plunge into the hotel's pool before relaxing in the sauna. Try an exercise class, or simply relax with a soothing massage.
Hilton Beijing offers four unique restaurants and bars from a morning wake up with fresh tea or coffee at Caffé Cino, indulge in an authentic South East Asian meal at MAKAN kitchen, experience our grill house, serving up western cuisine at One East, or relax and recuperate with a pre-dinner drink at Tonic Lounge.
Situated in the central area of Wangfujing, The Grand Hyatt stands boldly with a silver external sheen on the skyline. Inside, modern light design and elegant decor greet guests on arrival, promising quality and luxury in all aspects of their stay.
The Grand Hyatt encompasses a total of over 800 guest rooms, including a split-level Presidential Suite and 286 Suites, all of which combine contemporary fittings with classic style. For events, the Hyatt offers a wide range of meeting and function rooms as well as The Grand Ballroom and The Residence. Overhead chandeliers and lavish walls make The Grand Ballroom a perfect setting for formal occasions, whereas the multi-functional residential style of The Residency, equipped with customisable conference technology, offers a more casual setting for meetings. International cuisine can be indulged on at one of The Hyatt's seven restaurants and bars, with an extensive wine homemade pastry selection available from The Patisserie. The indoor pool is covered by a dynamic virtual sky that mirrors an evening sunset, with extensive greenery combining to give guests a unique and indulgent experience reminiscent of the outdoors.
The Grand Hyatt is located perfect walking distance from The Forbidden City and Tiananmen Square, making it both luxurious inside and accessible to Beijing CBD.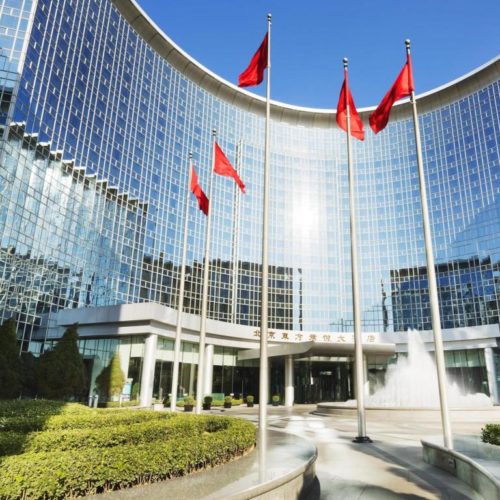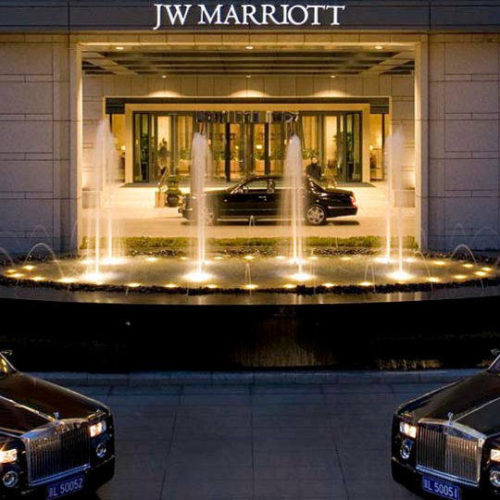 JW Marriott Hotel, Beijing/ The Ritz-Carlton, Beijing
Discover the luxurious accommodations at JW Marriott Hotel Beijing, ideal for both business or leisure travelers. Enjoy our Beijing, China, city center hotel's five-star location near China Central Place, an awe-inspiring complex featuring businesses, shopping and residential towers.
We provide spacious rooms and incredible amenities to keep guests completely satisfied. Guest rooms and suites feature luxurious bedding, 42-inch flat-screen TVs, high-speed Internet access, laptop-size safes, mini-bars and rainforest showers.
Our hotel in Beijing offers exquisite restaurants and lounges that are perfect for dining with family and colleagues. After a busy day, relax in our expansive indoor swimming pool, our refreshing steam room or our 24-hour gym. Plan your business functions at our hotel's innovative meeting space in the Beijing city center, and be sure to complement each event by taking advantage of our planning services and catering options.
AustCham Beijing works with the following Corporate member hotels:
Contact Events to organise your next event at these venues, or find out what special promotions are available to AustCham Beijing members at these hotels.