MEMBER EVENT | SMATS Tax Planning Workshop at BSB Shunyi
06-05-19 @ 4:30 pm

-

8:00 pm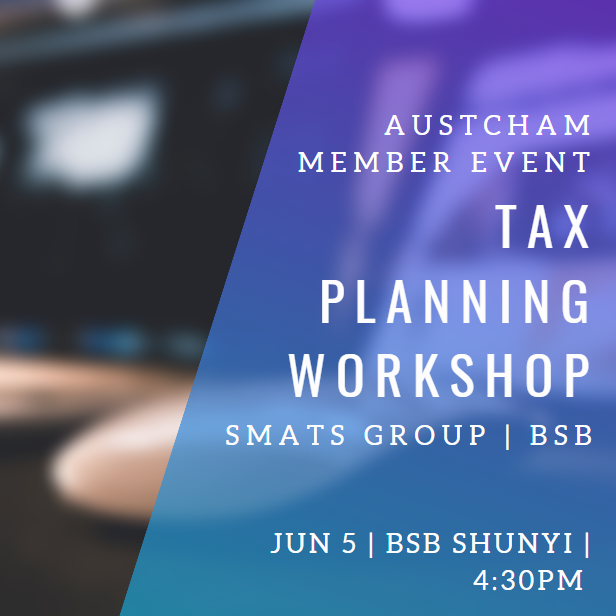 ---
We are pleased to extend this invitation to an upcoming workshop on Australian Expatriate Tax Planning. If you're looking to discover how to maximise your unique financial opportunities as an Australian expatriate, all while learning how you can return home debt free through tax planning strategies, then join us at the British School of Beijing, Shunyi.
SMATS Group will present a comprehensive guide to the fundamentals of Aussie Expat Tax Planning and tax-effective investment strategies that work for you, both overseas and back in Australia.
Areas covered include:
Post-Election update and what that means for expat investors
Australian residency rules and how to manage tax residency long-term
Expat tax planning with a real-time scenario using our unique tax planning tools
Tax effective investment strategies while working abroad and upon return to Australia
Superannuation contributions while non-resident – a tax perspective
Property investment tax analysis covering internal rates of return and the multiplier effect.
If you're interested in any of the above points, or if you want to simply learn about expat tax planning, feel free to attend this useful event:
Event Details
Date: June 5th, 4:30pm (Registration opens at 4:15pm)
Location: THE BRITISH SCHOOL OF BEIJING, SHUNYI, South Side, No. 9 An Hua Street Shunyi District, Beijing, 101318, China 北京英国学校 – 顺义校区, 北京市顺义区天竺开发区安华街9号南院 101318.
Price: Tickets are free of charge
RSVP: Please register by clicking the link here.
If you have any issues or enquiries about registering for the event, Please do not hesitate to contact events@austcham.org for more information.