This autumn, EAST, Hong Kong and East, Beijing partners with Aromatherapy Associates to help guests relax and rejuvenate with individual room experience packages. Available during October and November 2017, each of the exclusive EAST hotel packages will feature amenities from the eminent brand, inviting guests to revive and find balance by harnessing the healing powers of the natural ingredients found in all Aromatherapy Associates products.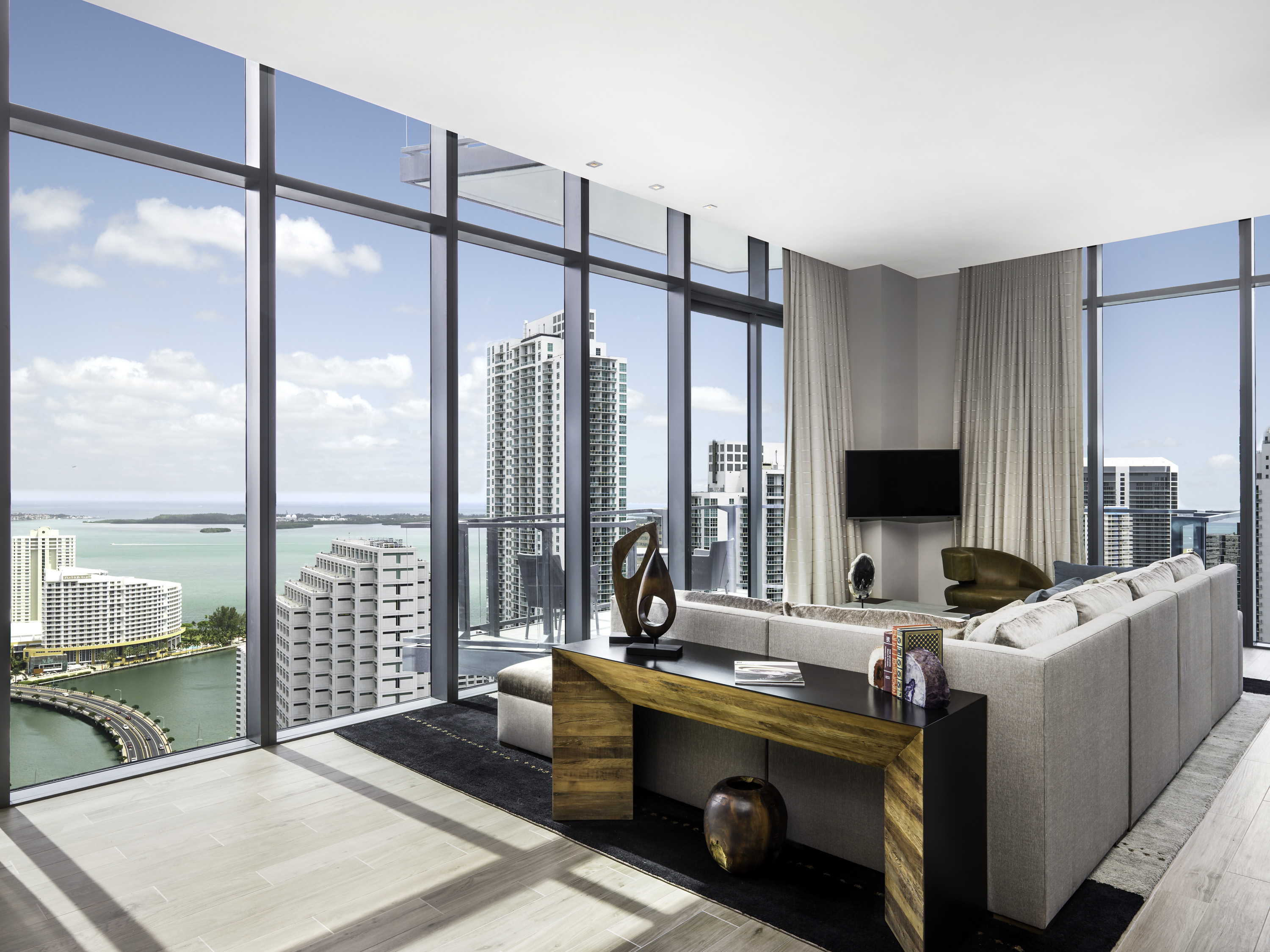 EAST, Hong Kong X Aromatherapy Associates
At EAST, Hong Kong, guests will receive a one-night stay in a breathtaking harbour-view suite complete with a welcome drink for two persons. The package features a vanity bag with amenities from Aromatherapy Associates and a one-hour in-room private yoga class led by a professional yoga instructor, ensuring a completely rejuvenating experience for guests.  A tantalizing breakfast for two will be included at Feast featuring an array of healthy morning specialties. To cater to those who enjoy leisurely mornings, a complimentary late check-out time at 3pm is also extended.
The EAST, Hong Kong X Aromatherapy Associates room package is priced from HK$5,500 + 10% service charge per room per night.
EAST, Beijing X Aromatherapy Associates
Guests of EAST, Beijing will be able to enjoy a one-night stay in the spacious EAST studio suites offering stunning views of the surrounding 17 hectare park.  A welcome drink of Green Apple and Avocado smoothie will be served upon arrival. To further pamper guests, the EAST x Aromatherapy Associates experience will include an exclusive in-room package full of amenities. Whether to shake off stress or keep up with a fitness regime, guests will also receive a one-hour functional private training class at BEAST (Body by East) during their stay*. For a great start to the morning, guests can head to FEAST to enjoy a tasty breakfast for two.
The EAST, Beijing X Aromatherapy Associates room package is priced at RMB 2,388, subject to 10% service charge and 6% VAT per room per night.   A complimentary early check-in and  late check-out  is also extended.
The EAST Aromatherapy Associates package is subject to availability and an advance reservation is required for the functional training class. The package is non-refundable and no cancellation or amendment is allowed.
About Swire Hotels and Swire Restaurants
Swire Hotels has been created to manage soulfully individual hotels in Hong Kong, Mainland China and the USA, providing a characterful experience for well-travelled individually minded travellers who seek originality, style and personalised service. We create distinctive hotels with a sense of place that break with convention.
The company's first hotel, The Opposite House in Beijing, opened in 2008 and was followed by The Upper House, Hong Kong, and then by EAST, Hong Kong and EAST, Beijing. The Temple House in Chengdu opened in July 2015 and EAST, Miami opened in June 2016.  The Middle House in Shanghai is scheduled to open at the end of 2017.
A restaurant division was set up in 2013 to manage the company's stand-alone restaurant operations. The first restaurant Plat du Jour opened in November 2013 followed by Public and Ground Public in Quarry Bay. The Continental in Pacific Place opened in October 2014 and Mr & Mrs Fox in Taikoo Place in 2015. The latest addition, the second Plat du Jour opened in Pacific Place in January 2016.
About Aromatherapy Associates
For more than 30 years, Aromatherapy Associates, has been specialising in wellness, mindfulness and leading a balanced life. Our founders' vision has remained unchanged for a generation with a simple concept: sharing the power of essential oils and their incredible effects at a therapeutic level.
We are renowned for our award-winning products and spa treatments which have transformed the traditional aromatherapy experience into something highly effective yet luxurious. By harnessing the natural healing effects of the finest ingredients, purest extracts and essential oils, our core range of blends has become a phenomenon in the beauty world and we are recognised as leaders in our field. We offer a purposeful range encompassing Bath & Shower Oils, skincare, body care, home, travel and gifting.
Created in 1985, Aromatherapy Associates first made a name for itself in the luxury Spa sector, and today is used and recommended by professional therapists in over 700 luxury spas around the world.
For more information, please contact:
Ms. Gretchen Smelter
Director of Marketing
Swire Hotels
Tel: (852) 2844 8998
Email: gretchensmelter@swirehotels.com
Ms. Michelle Lau
Head of Communications
Swire Hotels
Tel: (852) 2844 8390
Email: michellelau@swirehotels.com