Macquarie Business School Reception
11-11-19 @ 6:00 pm

-

8:00 pm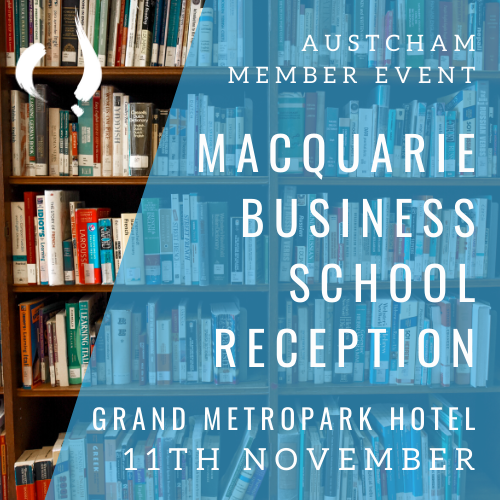 Come and join Macquarie Business School on the 11th of November for an exclusive evening reception. The event will be held from 6:00pm to 8:00pm at the Grand Metropark Hotel.
Macquarie Business School is one of Australia's largest business and commerce schools and home to over 17,000 students from 65 countries. This reception is being held to celebrate Macquarie Business School's continued partnership with the renowned Chinese Academy of Social Sciences (CASS), and to showcase their progressive, cross-disciplinary approach to research and education.
During the evening, you will have the opportunity to hear from the Keynote Speaker, Prof. Stephen Brammer, Executive Dean of Macquarie Business School, amongst others.
To register for this event, contact Jenny Fang (Manager – International) at jenny.fang@mq.edu.au. Please RSVP as soon as possible as registration ends on Monday, the 4th of November!
Event Details
Date: Monday, 11th November 2019
Time: 6:00PM – 8:00PM
Venue: Grand Metropark Hotel Beijing | 北京维景国际大酒店
Address: 2 North 3rd Ring East Road, Chaoyang District, Beijing
RSVP: By Monday, 4th November 2019 to jenny.fang@mq.edu.au
Price: This is a free event