The real estate sector is undoubtedly one that is quintessentially linked to discussions of China, both domestically and internationally. Indeed, property investment is one of the greatest testimonies of the spectacular growth of China's middle class – in striking similarity with the ways in which tech and e-commerce tap into Chinese consumer trends. Yet, whilst it's not too hard to imagine securing a job at a Chinese tech giant set on global expansion, how about joining a Chinese company predominantly focused on China's domestic market?
This month, ACYA Beijing is excited to chat with Brett Hartley, a UNSW alumni who has accumulated over 10 years of China experience, and is currently working as a Director of International at Lianjia Homelink here in Beijing!
Following the traditional format of our Global Employer seminars, Brett will begin by giving a 10-minute introduction of the company, along with a brief discussion of how Lianjia fits into the real estate market in China, in order to contextualize our discussion and help those of us unfamiliar with the topic of real estate to grasp Lianjia's potential.
Brett will then give a 10-minute presentation on his China journey, which will lead us into a 20-minute discussion on what it's like to work for a Chinese real estate giant as a foreigner, and what lessons Brett took away from his various job positions, spanning across the Australia and China. We will finish the evening with a 20-minute Q & A and 30-minute Networking session to give everyone the chance to ask follow-up questions and mingle with fellow-young professionals and university students.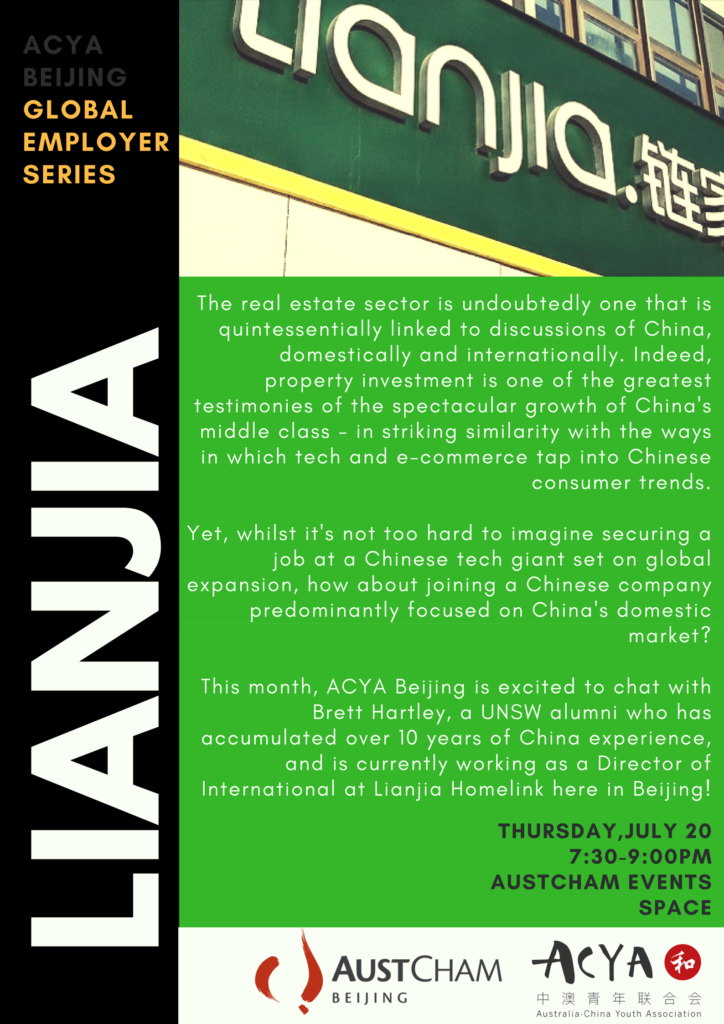 ---
Agenda:
7:00 PM – 7:30 PM: Arrival and Registration
7:30 PM – 7:50 PM: Presentation
7:50 PM – 8:10 PM: Discussion
8:10 PM – 8:30 PM: Q & A
8:30 PM – 9:00 PM: Tea, Coffee and Networking
---
Event Details:
Date: Thursday, July 20th
Time: 7:30PM – 9:00PM (registration will begin at 7:00 PM)
Cost: Free
Venue: AustCham Beijing Office / 中国澳大利亚商会北京办公室
Address: Room 1003, Tower A, U-Town Office Building, 1 Sanfengbeili, Chaoyang Dist/ 北京市朝阳区三丰北里,悠唐写字楼A座1003室
RSVP: events@austcham.org