Post-Event Update | Connecting to the Growth of China's Internet
08-27-18 @ 4:30 pm

-

6:30 pm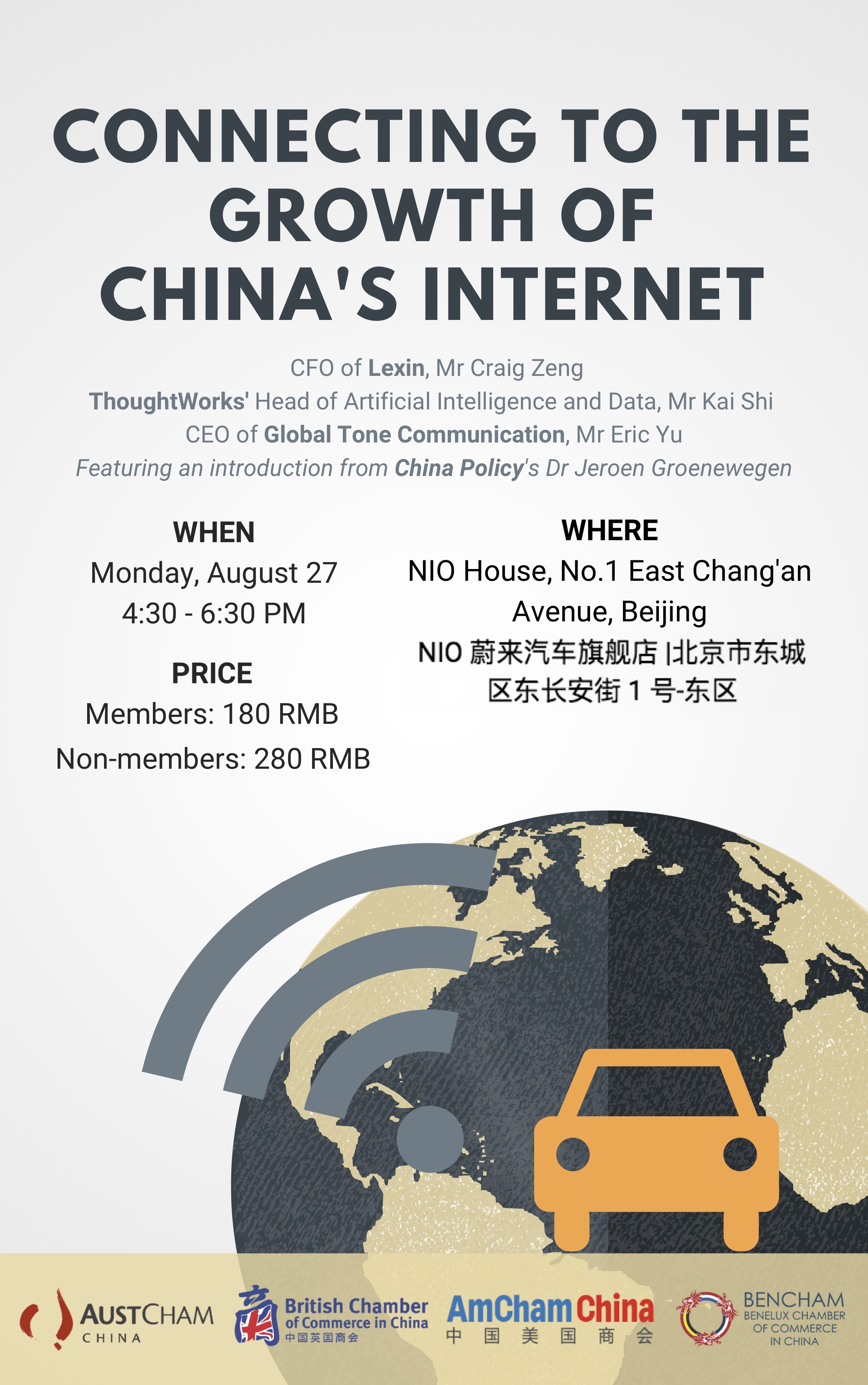 Last night, AustCham Beijing hosted "Connecting to the Growth of China's Internet", a seminar providing updates and discussion of China's internet situation now and into the future.
The event was organised in conjunction with the American (AmCham), British (BritCham) and Benelux (BenCham) Chambers of Commerce in China at the innovative NIO House, and attracted over 70 guests.
A huge thank you to our special guest speakers, the CEO of GTCOM Eric Yu, the CFO of Lexin Craig Zeng, ThoughtWorks' Head of AI Kai Shi, and Jeroen Groenewegen from China Policy, who participated in an engaging discussion about big data, AI and government policy and the implications for their companies.
The Chinese National Government set "becoming an internet powerhouse" as a state goal in October 2015. While newly released documents such as the China Internet Report 2018 demonstrates significant potential for internet infrastructure growth and a strong demand to improve the current internet penetration rate of 55%, no top-level roadmap has emerged.
This event provides members with relevant information on China's current and future internet situation. It will inform members about the practical experiences of using China's internet, where leading organisations and think tanks believe China internet policy might go, and how organisations use the internet for innovation. This will be an English language event.
The event be hosted will host a range of speakers:
The CFO of Lexin (乐信) Mr Craig Zeng, who has previously served as the CFO for companies such as Microsoft (Greater China), YeePay and Venustech.
ThoughtWorks' Head of Artificial Intelligence and Data Mr Kai Shi. Mr Shi 

has 15 years of service experience in the information industry and prior to working for ThoughtWorks has held positions at IBM, Accenture, and EMC.

The CEO of Global Tone Communication Mr Eric Yu, who

 joined China Translation Corporation in 2005, and established GTCOM in 2013, which has grown to be a global leader in big data and AI.
This event will also feature a welcome from hosts and premium innovative electric vehicle manufacturer and designer NIO (蔚来汽车) and an introduction from China Policy's Research Manager for Science and Innovation Dr Jeroen Groenewegen.
Speakers will each do a short presentation followed by a Q&A with opportunities for networking and drinks.
Event Details
Date: Monday, August 27th
Time: 4:30pm – 6:30pm
Venue: NIO House, No.1 East Chang'an Avenue, Beijing, China | NIO 蔚来汽车旗舰店 |北京市东城区东长安街 1 号-东区  (Exit E of Dongdan Subway Station)
Price: 180RMB for members, 280RMB for non-members
RSVP:  Send your RSVP to events@austcham.org by 5pm Monday 20th August
Attendees are required to RSVP for entry
Please note our no-show policy, whereby cancellations received 24 hours or less before the event cannot be refunded.