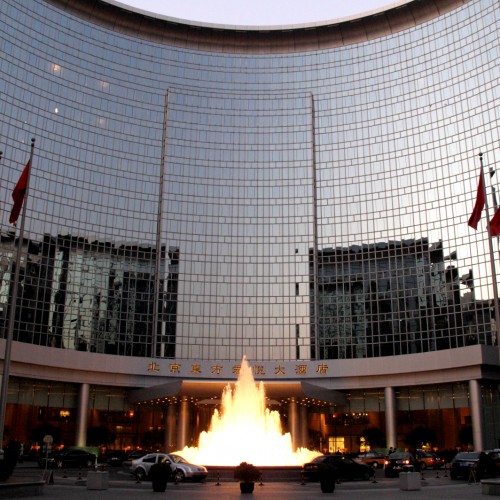 Situated in the central area of Wangfujing, The Grand Hyatt stands boldly with a silver external sheen on the skyline. Inside, modern light design and elegant decor greet guests on arrival, promising quality and luxury in all aspects of their stay.
The Grand Hyatt encompasses a total of over 800 guest rooms, including a split-level Presidential Suite and 286 Suites, all of which combine contemporary fittings with classic style. For events, the Hyatt offers a wide range of meeting and function rooms as well as The Grand Ballroom and The Residence. Overhead chandeliers and lavish walls make The Grand Ballroom a perfect setting for formal occasions, whereas the multi-functional residential style of The Residency, equipped with customisable conference technology, offers a more casual setting for meetings. International cuisine can be indulged on at one of The Hyatt's seven restaurants and bars, with an extensive wine homemade pastry selection available from The Patisserie. The indoor pool is covered by a dynamic virtual sky that mirrors an evening sunset, with extensive greenery combining to give guests a unique and indulgent experience reminiscent of the outdoors.
The Grand Hyatt is located perfect walking distance from The Forbidden City and Tiananmen Square, making it both luxurious inside and accessible to Beijing CBD.
JW Marriott Hotel, Beijing/ The Ritz-Carlton, Beijing
Discover the luxurious accommodations at JW Marriott Hotel Beijing, ideal for both business or leisure travelers. Enjoy our Beijing, China, city center hotel's five-star location near China Central Place, an awe-inspiring complex featuring businesses, shopping and residential towers.
We provide spacious rooms and incredible amenities to keep guests completely satisfied. Guest rooms and suites feature luxurious bedding, 42-inch flat-screen TVs, high-speed Internet access, laptop-size safes, mini-bars and rainforest showers.
Our hotel in Beijing offers exquisite restaurants and lounges that are perfect for dining with family and colleagues. After a busy day, relax in our expansive indoor swimming pool, our refreshing steam room or our 24-hour gym. Plan your business functions at our hotel's innovative meeting space in the Beijing city center, and be sure to complement each event by taking advantage of our planning services and catering options.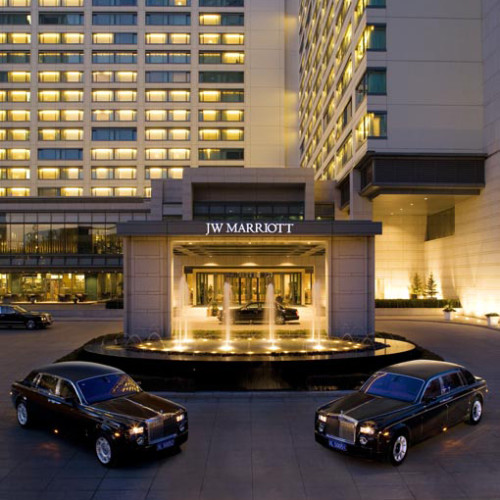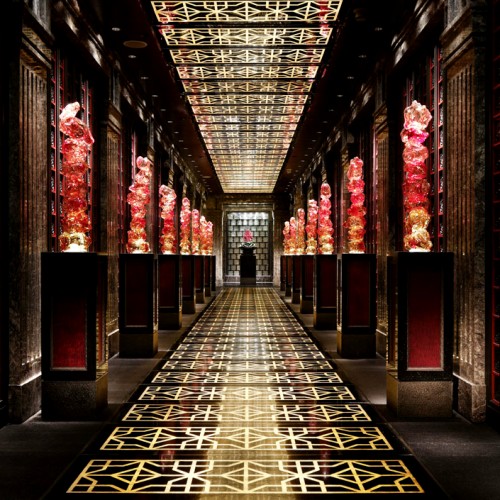 The Four Seasons Hotel Beijing
Situated centrally in the heart of Beijing's Chaoyang District, the Four Seasons Hotel Beijing welcomes guests with its stunning lobby butterfly instillation piece, giving the illusion of dynamic wildlife amongst the building. The hotel has 313 guest rooms, including 66 luxury suites and one imperial suite, all of which balance space and light with individualised decor and furnishings. 12 distinctive function rooms, including lounge spaces, telecommunication enabled boardrooms and the Imperial Ballroom offer events diverse opportunites for decadence and organisation.
For lovers of taste, the Four Seasons Hotel Beijing has two signature dining venues and three lounges, offering contemporary Chinese cuisine, regional Italian and fine teas and cocktails. Guests can find relaxation and fitness at the Health Club, with an extensive range of gym equipment, a sunlit pool, and sauna rooms as just a few of the decadent services offered.
Excellence and consistency are found around every corner of the Four Seasons Hotel Beijing, from the surroundings to the service, it all compliments the dedication that they hold to their guests.
The Shangri-La's China World Hotel exudes luxury and dynastic charm. Filled with Ming and Qing era style artwork that complement the bold red and golden hues of the decor, guests find themselves in an environment not unlike that of a royal palace, and that's just the lobby. Located at the base of the China World trade Centre, the hotel sits within the Central Business District, giving it a prime location for accessing everything that Beijing has to offer.
The China World Hotel Beijing holds over 700 guest rooms and suites, all furnished with earth tones, contemporary Asian art and marble bathrooms. Each room has accompanying views that stretch the expanse of Beijing, illuminating the Forbidden City and Tiananmen Square, both of which are walking distance from the hotel. Events take on a grandeur and sophisticated elegance when held at the China World Hotel, with a Conference Hall, Grand Ballroom and 14 function rooms available.
Flavours of modern Europe and classic Huaiyang can be enjoyed at the multiple award-winning restaurants within the hotel, with special attention given to Chinese tea culture and fine wine. State-of-the-art gymnasium facilities and a heated pool provide guests with the perfect setting to wind down and relax, with Chinese massages and steam therapy providing the perfect indulgence. For a stay that combines the highest level of service with an old-style royal charm, the China World Hotel Beijing is the ideal location.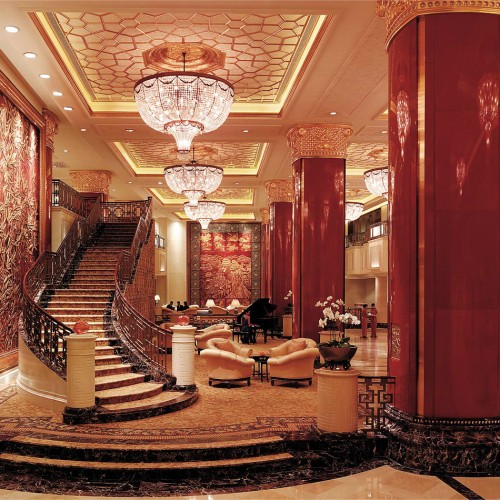 The Sofitel Wanda Beijing, located in Beijing's CBD, combines classic French elegance with traditional Chinese elements to create a luxurious contemporary setting, fit for events and occasions of all scales. With over 400 designer rooms, a range of business meeting spaces all equipped with state-of the art audio-visual technology, and a grand ballroom, the facilities at The Sofitel Wanda Beijing deliver diversity and assured quality.
Access culinary contrasts at one of The Sofitel Wanda's fine dining areas, including the Héritage French restaurant; Yipin Chinese restaurant and VIC's global cuisine and Sunday Champagne Brunch. Enjoy a drink downstairs in the Vous Lobby Bar, where lavish decor and lighting complement the Beijing cityscape and lounges provide a relaxing modern atmosphere. Leisure and wellbeing are prioritised highly at The Sofitel Beijing, with beauty and spa therapies on offer as well as a heated swimming pool and comprehensive fitness centre.
Whether it be for a weekend in China's capital, a business conference, or a 1000+ event, The Sofitel Wanda Beijing blends French and Chinese inspiration into the facilities and refined service you need.
AustCham Beijing works with the following Corporate member hotels:
Contact Kristian Ricardo to organise your next event at these venues, or find out what special promotions are available to AustCham Beijing members at these hotels.