On Thursday the 18th of January, AustCham Beijing, in conjunction with Austrade, is hosting the Austrade Breakfast Briefing.
With ChAFTA further strengthening trade, investment and education links between Australia and China, Austrade's Beijing-based leadership team will reflect on the past twelve months, and outline Austrade's plans for the year ahead.
Join us in hearing from a number of experts in the Australia-China business sphere, including Dan Tebbutt, Senior Trade Commissioner & Minister-Counsellor at the Australian Embassy Beijing. Ticket price includes light breakfast, tea and coffee.
Event Details:
Date: Thursday, 18 January, 2018
Time: 7:40AM – 9:00AM
Price: 100RMB Members | 160RMB Non-Members
Venue: AustCham Beijing Office | 中国澳大利亚商会北京办公室
Address: Room 1003, Tower A, U-Town Office Building, 1 Sanfengbeili, Chaoyang District | 北京市朝阳区三丰北里1号,悠唐写字楼A座1003室
RSVP: To RSVP please contact events@austcham.org
*No show policy: Please note you must cancel your reservation by email to events@austcham.org 24 hours in advance. No-shows without prior notification will be charged a no-show fee.
About the Speaker: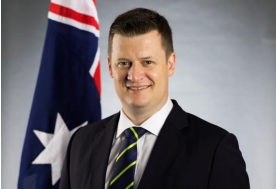 DAN TEBBUTT
邓博文先生
Senior Trade Commissioner & Minister-Counsellor (Commercial)
高级商务专员
Australian Embassy Beijing
公使衔参赞
Dan Tebbutt has been Austrade Senior Trade Commissioner for North China and MinisterCounsellor (Commercial) at the Australian Embassy Beijing since December 2015.
Previously, Dan served as Austrade Senior Trade Commissioner and Deputy Consul-General (Commercial) for Hong Kong and Macau from 2013 to 2015, where he refocused Austrade's engagement with major international investors and targeted promotion of premium goods and services into one of Australia's most lucrative export markets.
From 2007 to 2013, Dan served as Austrade's Senior Trade Commissioner in Moscow, covering Russia and eight other countries of the Commonwealth of Independent States. Managing offices in Moscow and Vladivostok, Dan led the Austrade CIS team during a time when bilateral trade between Australia and Russia increased four-fold.
Before joining Austrade, Dan worked as a journalist, editor, communications consultant, business analyst and speechwriter. His media career included the BBC, The Times of London and The Australian newspaper. He was the first Australian correspondent in Silicon Valley from 1996 to 1998 working for Australian Consolidated Press.
Dan holds Bachelor of Arts (Hons) and Bachelor of Laws (Hons) degrees from Sydney University.
Dan speaks Russian fluently and continues to develop his basic proficiency in Putonghua Chinese. He also speaks basic Spanish and French. He is married with two young children.
        邓博文先生自 2015 年 12 月起担任澳大利亚贸易投资委员会(澳贸委)中国办公室高 级商务专员和澳大利亚驻华大使馆公使衔参赞,负责领导澳贸委中国北方地区的工作。
        赴北京任职之前,自 2013 年至 2015 年,邓博文先生曾任澳贸委香港和澳门地区的高 级商务专员。他重新制定了澳贸委与国际市场投资者的合作战略,并致力于将优质商品 和服务带入这个对澳大利亚有重要战略意义的出口市场。
        自 2007 年至 2013 年,邓博文先生担任澳贸委莫斯科办公室的高级商务专员,负责指 导俄罗斯和其他八个独联体国家的业务。在他任职期间,澳大利亚和独联体国家之间的 双边贸易增长了四倍。
        加入澳贸委之前,邓博文先生担任过记者,编辑,传播顾问,商业分析师和撰稿人。他 的媒体生涯包括英国国际广播电台,伦敦时报和澳大利亚人报。1996 年至 1998 年 间,他是澳大利亚联合新闻派驻在硅谷的第一位澳大利亚记者。
        邓博文先生毕业于悉尼大学,并获得文学(荣誉)学士和法学(荣誉)学士学位。
        邓博文先生精通俄语,并通晓基本的西班牙语和法语知识,他正在不断提高汉语普通话 水平。
        邓博文先生已婚,且育有两个小孩。